Dukes Pinot – A Family Affair
We made our first trip to Dukes Family Vineyards in the summer of 2015. Dukes has a beautiful spot in the Eola-Amity Hills of the Willamette Valley. In 2015 we tasted in their small building overlooking their pond. As the picture indicates, the small tasting room allowed for beautiful views to enjoy their fantastic pinots.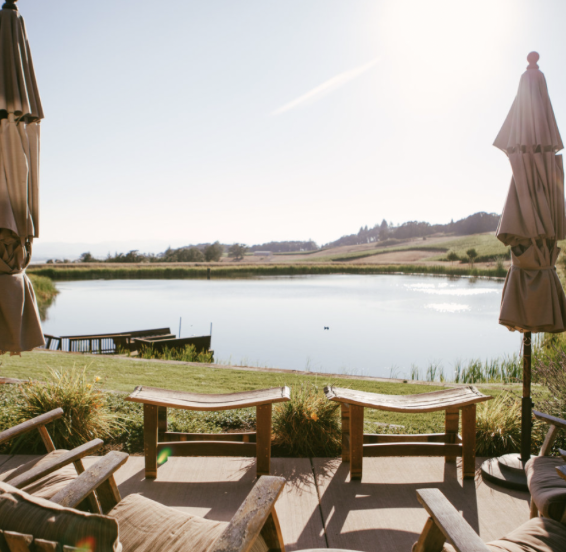 Jackie Dukes and her husband Pat own and operate the winery. We had the fortune to sit and taste with Jackie and talk about their wine. As with many Eola-Amity wines both on the nose and palette you get a mix of black and red fruits that leans toward the darker side. Most of their wines have medium body with medium-high acidity. What I tend to like most about their wines is as they age they gain complexity and bring out some secondary and tertiary flavors of the oak and even some tobacco and jammy flavors while maintaining the fruity backbone.
That first trip we purchased the pinot name after Jackie's granddaughter, Charlotte. All their wine names have a family connection which adds to the allure of their winery for me. Tasting next to their main home and the way they treat you like family while you are there makes a big impression as well. We also enjoyed Blushing Kate, their pinot based Rosė.
Now you get to taste in their wine making barn next door to their house. They were completing construction during our trip in 2017. While we haven't been able to actually taste there, we can't wait to go back and enjoy the experience of hanging out with their labs Pearl and Emma as we explore their continually expanding portfolio of wines.
Insider tip – while their wines are enjoyable soon after bottling I have noticed I enjoy them more 5-7 years later. And while most wine enjoys a little breathing after opening, the Dukes pinots tend to really benefit from a few minutes in the glass before drinking as the complex notes begin to show themselves.
If you haven't tried a Dukes wine, especially for me their pinot noirs hop on their website and grab a bottle or two. You won't be disappointed.